♥

A Tribute to Primp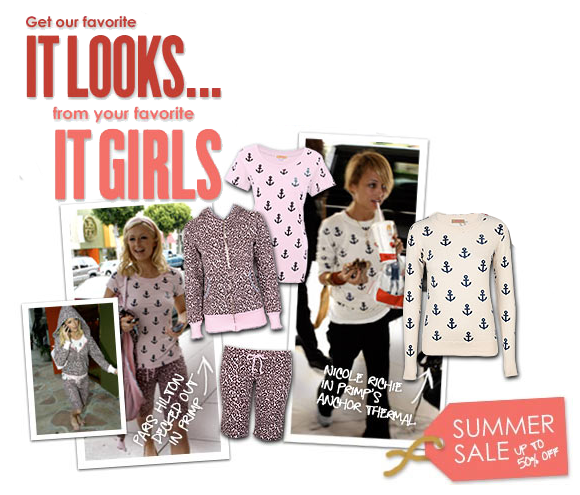 ABOUT PRIMP
Launched at the height of the noughties tabloid era in 2004, Primp Clothing was an instantly-iconic brand of women's casual wear. The brainchild of Detroit native and FIDM grad Wells Butler, the line aimed to provide "ultra-feminine, casual women's clothing that emphasizes comfort without the sacrifice of style."
Best known for their thermal tees, tanks, pants and hoodies that featured cute and whimsical allover pattern prints (like bunnies, sea horses, birds, clovers and anchors) and delicate details (an archived product page notes "shining crystal embellishments," which are visible in the photos from this Etsy listing), Primp was like a more dainty version of Juicy Couture -- but no less trendy or luxe.
The brand rose to prominence around 2006 and 2007, when the iconic patterned pieces became the celebrity fashion trend of the moment. Primp's clothes were seen on early noughties icons* like Ciara, Katherine Heigl, Lauren Conrad, Racel Bilson, Paris Hilton and Britney Spears.*



Several brands tried to copy Primp's casual cute vibe -- most notably Amanda Bynes' short-lived discount line, Dear -- but none were able to completely capture the brand's charm.
Primp continued to grow in popularity throughout the late 2000s, launching new initiatives and lines -- including a small eco-friendly Earth Day collection and a tween line, primp girl -- making its way from small trendy boutiques to major department stores, and expanding beyond loungewear.
At the dawn of the 2010s, Primp appeared to be poised for another surge in popularity, launching a new marketing push amid the rise of social media marketing -- there was a website redesign and domain change (from itsprimp to getprimp.com); a new Twitter account, a YouTube web series chronicling the brand's continued rise and a few polished commercials. There were also plans to distribute the line abroad.
Ironically, that's when things seemed to go south. The line continued to generate buzz on fashion blogs until the mid-2010s, but wasn't seen on celebrities or in magazines as often. The brand's Twitter account failed to gain a following, and the last few tweets, published in early 2012, make reference to issues with the brand's online storefront. Finally, it seems the website shuttered sometime in 2018, with little fanfare -- the only evidence is Archive.org pages that stopped directing to the Primp website.
There also isn't much evidence of Primp's original popularity -- or information about the brand at all -- available online.*** Changes in the media landscape and internet culture meant the celebrity gossip pages and fashion blogs that once raved about the brand either went offline, or got lost in the Google algorithm. The official website isn't fully cached on Archive.org, leaving little background information on a brand that dominated an era.
ABOUT THIS PAGE
This page was actually inspired by my struggle to find details on this brand that was burned into my memory. But a rigorous review of archived versions of their website and countless Boolean searches helped me find enough information to pull together this overview of the brand. (In addition to this write-up, check out the links throughout and below). Though, I'm sad I wasn't able to find any difinitive reason why the brand shuttered.
But I was excited to learn Primp founder Wells Butler is doing just fine -- she's Lead Designer for "by women, for women" activewear brand, AGF (All Good Feels), and a DJ! Though AGF's aesthetic is more Yeezy-millennial-minimalist than Primp's high-glam-camp, Butler's attention to detail and eye for cute-but-comfortable looks shine through.
Still, Primp holds a special place in my heart. I discovered the brand as a Britney stan, who checked fansites daily for the latest paparazzi snaps of the pop star. I fell in love with her collection of colorful Primp hoodies and thermals. As a longtime diehard Britney fan, I would have worn anything she did, even during her "breakdown" era (I may or may not have bought a pink wig in 2007...), but I also legitimately loved the glamorous yet delicate designs of the Primp label. (So much so that I may or may not have bought a couple of the Amanda Bynes knockoffs...)
While I never owned any legit Primp clothes myself, I am a fan of early 2000s culture, a lover of fashion, and someone who's inspired by successful women of color. That's why I love this brand so much. I can't help but feel like Wells Butler's success with Primp (it was her first solo line after graduating from FIDM), and the brand's inspired designs deserve to be remembered and celebrated, which is why I created this page.
COMING SOON: photos of Primp patterns, Primp merchendise and snaps of celebrities rocking the brand's iconic patterns.
♥

FOOTNOTES

* As one blog put it, Primp was seen on "every other Redbull-chugging, oversized shade-wearing, rehab-loving on-the-scene Hollywood starlet."

** During her 2007-2008 tabloid darling era, Britney was photographed wearing various Primp items so often, one blog from the era pondered, "What kind of a celebrity megapost would this be if I didn't post a picture of Britney Spears wearing a hoodie (that's probably made by Primp)?"

*** Although, while putting this page together -- months after my original research -- I found out Primp founder Butler is quoted in the dictionary entry for the word "primp!" (Okay, so they're auto-generated quotes from a shady dictionary website, but still!)
♥

LINKS
OFFICIAL PAGES
FASHION BLOGS
Check out more info, reviews and photos of Primp clothes, from fashion blogs of the late noughties!

MISCELLANEOUS