Top 5 beauty products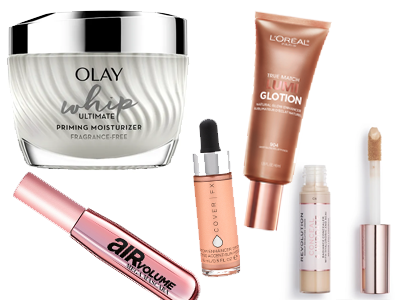 One of the many ways I am contributing to the destruction of our planet and the decline of American society is my obsession with beauty products. I'd always been curious about beauty and when I got a job at a makeup store during graduate school, an obsession was born. I buy way more makeup and skincare than I need or can afford, but it's a lot of fun. After struggling to find my look, I've found some holy grail products that I am obsessed with. They're easy to use and I feel like they not only work for me, but could compliment anyone.
My favorites are constantly changing, but here are some current faves that I think have unviersal appeal. If you are into makeup or curious about getting into it, I recommend checking these out!
Loreal Air Volume Mascara

This is a new release from Loreal that I recently purchased. Like their Lash Paradise mascara is an obvious dupe for Too Faced's Better Than Sex mascara, I feel like this one is supposed to be a copy of Too Faced Damn Girl, which is my favorite mascara splurge. It gives the same insane amount of volume without being clumpy. Lashes look lush and full and it doesn't seem to smudge or transfer.

Cover FX Custom Enhancer Drops

I've been using the same bottle of this stuff for, like, two years because it is so expensive but so good. I like the shade Moonlight. It gives such a natural glow and you can go for a subtle look or build it up for an intense shine without the chalkiness of some powdered formulas. On no-foundation days, a little bit of this on the cheek bones, and even under your eyes, instantly brightens your face and gives you a healthy, natural looking glow.

Loreal Lumi Glotion

This has replaced foundation for me most days. It evens out your complexion without looking heavy. It sinks into your skin and gives you an evened complexion and a subtle healthy, natural-looking glow. I use shade medium to give the appearance of a tan, but I recently bought the light shade, which I am excited to try.

Olay Priming Moisturizer

I was in need of a new daytime moisturizer when I bought this and it's quickly become my go-to primer. I'm not sure if it actually has skincare benefits, but it does make my skin at least look moisturized and improves the appearance of makeup, creating a smooth canvas for foundation or concealer. Any skincare benefits are a bonus!

Makeup Revolution Concealers

Makeup Revolution is one of my favorite brands for dupes of high-end cosmetics. Their Conceal and Define concealor is often touted as a dupe for the cult-fave Tarte shape tape, but my dry skin prefers the more recent Conceal and Hydrate, which still provides great high-medium coverage without being drying or settling into fine lines. For longer days, the Conceal & Define Infinite Longwear Concealer is my go-to. It can be built up to be full coverage and lasts all day. I've worn it under masks and at the end of the day, there's been minimal movement or transfer. Even better, these are all super affordable, at around $10 a piece.
Coming Soon: Recent purchases I'm eager to try.


---
Go Home