My Childhood Barbie doll colelction
I've been obsessed with Barbie for as long as I can remember. I was actually shocked at how young I must have been when I got my first Barbie doll when I was putting together this list of dolls I had as a kid. I accumulated a pretty decent collection at a young age and I continued collecting on and off through my teen years.
While I'm not as obssessed with Barbie dolls as I was when I was back then, I'm still fascinated with Barbie as a cultural icon and will probably always hang onto some amount of Barbie dolls. I still manitain a casual collection of Barbie and other fashion dolls.
But I don't think anything can replace my fondness for the dolls I had as a kid. Not only do they remind me of the childike wonder and imagination we all have at that age, but as a collector, I appreciate the creativity and quality that went into 90s Barbie dolls that isn't always present today.
Here are a few of the Barbie dolls I remember owning as a kid and some of my thoughts and memories about them. I hope they bring back fond memories for you! (Images are for illustration only and have been collected from the internet. If your photo is featured here and you'd like it taken down, please contact me and I will gladly remove it.)
1990s dolls
Slumber Party Barbie (African American), 1994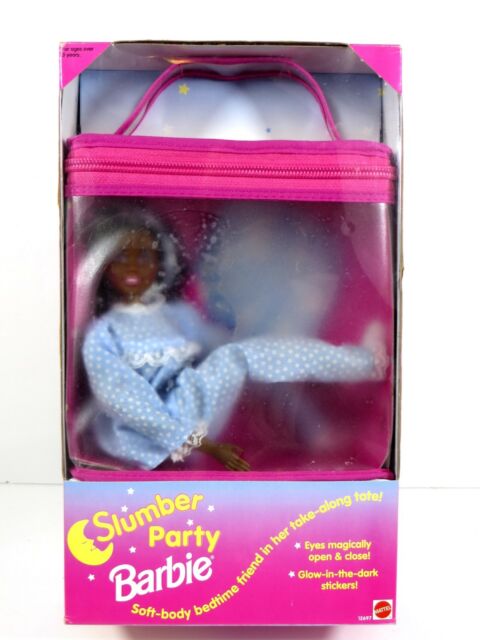 I'm shocked this doll came out so early, because I have distinct memories of the day I got her but I would have been only two or three years old!? Unless my family got her years later on deep clearance or something haha. In any case, I remember loving the doll's soft body and the color-change effect on her eyes that made them "close" for bedtime.




Sparkle Beach Barbie, 1995

This was my first beach Barbie doll! I LOVED her sparkly blue bathing suit. I had the version with straight hair as a kid, but there was a variation with a long braid that I found at a thrift store when I picked up collecting again as a teen, but I think I prefer the carefree hair-down vibes of the original. I think my sister had the Kira doll from this line, and we both had one of the outfits that were sold separately.
I know for sure we had the outfit with the geometric-print shorts, and I think we had one of the dresses, too. I was obsessed with the packaging on these fashions, because they had a picture of the whole doll behind the fashion. I remember cutting one of them out and trying to use it as a paper doll, haha.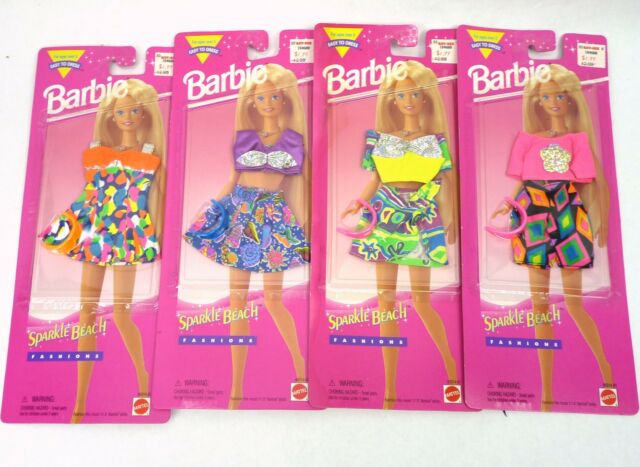 Foam 'n Color Barbie, 1995
I remember my sister and I both got one of the dolls from this line, which came in pink, blue and yellow variations. I think we had the pink one and blue one but I can't remember which was mine. I'm pretty sure the pink one was mine. If not, I bugged my sister until she traded me because that's the one I remember playing with the most, haha.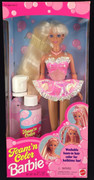 Flying Hero Barbie, 1995
This is another line my sister and I both got a doll from! I picked Barbie and she picked Kira. I kind of preferred Kira's blue outfit, but Barbie was my favorite because she was the main character – and whitewashed 90s media convinced me that blonde-and-blue-eyed was better.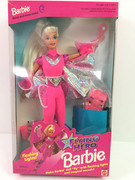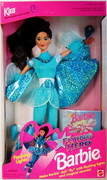 Twirling Ballerina Barbie, 1995
This is the first Barbie doll I remember picking out myself from the store. I loved her poseable body, pretty braid and sparkly outfit, but the tiara built into her head (which made the twirling function possible) and painted on ballerina shoes annoyed me because they didn't look good with other outfits I tried to dress her in.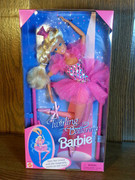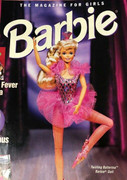 Songbird Teresa, 1995
I think I got this doll for Easter one year. She came with a cute bird figurine that "sang" when you placed it on the doll's hand. I loved her lavender dress with delicate flower details, and thought the singing bird accessory was so cool.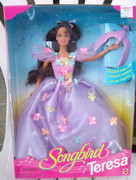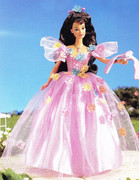 Jewel Hair Mermaid Barbie, 1995
My sister and I each owned one of these. It's the only time our family got us each the exact same doll (normally they made each of us get a different character or variation). I'm not sure what it is about this doll that made us both want the Barbie doll, but it may have done something to do with her gorgeous blonde "longest hair ever!", and glamorous gold fashion, with multicolor glitter accents. I also really loved the dramatic lip color on this doll. Unfortunately, I remember the stick-on stars made her hair a tangled, matted mess, and the weight of her hair made her neck joint loose. :(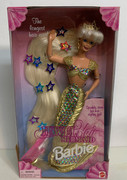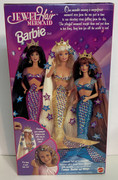 Splash 'n Color Barbie, 1996
I was OBSESSED with this Barbie as a kid. I thought her tan was gorgeous, and was complemented nicely by her coral lipstick. I thought her swimsuit was cool and the color streaks in her hair were edgy. I loved my other dolls, but this was the first Barbie doll I had that I thought was legitimately trendy and stylish.
Ocean Friends Barbie and Ken, 1996
Between her color-change legs and the her whale friend (who squirted water!), this Barbie doll was one of my favorites to play with in the tub. But I always got frustrated that she had hard plastic legs (probably to make the color change effect function) rather than the usual bend-n-snap knees of most 90s Barbie dolls. I also had the Ken doll from this line!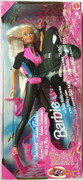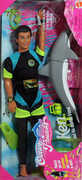 Moovin' Grovin' Barbie, 1997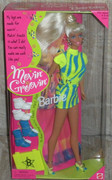 For some reason, I was obsessed with stamps as a kid, so I was in love with this doll. Not only did her shoes double as stamps, but she "walked!" I also thought her outfit was super stylish (though in hindsight, it's kind of tacky haha) and I still love her full, high ponytail.
Cool Shoppin' Barbie, 1997
I was raised on Mary-Kate and Ashley movies, so I was a proud shopaholic from a young age. So of course, when I saw this doll at Toys R Us, I begged my family to buy it for me. I loved the included store playset and outfits which, once again, were super trendy for the 90s. I thought it was so cool that she had little "denim" pieces like my sister and I did, and I loved the plaid skirt, as well.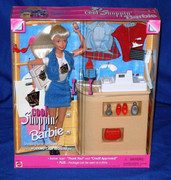 Generation Girl Barbie, 1998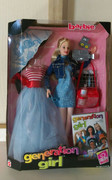 This line was an obvious attempt by Mattel to make Barbie cooler and it worked on six year-old me. All the characters seemed so grown-up. Their backstories made me think of the characters on "Saved By The Bell." I had originally wanted Nichelle from this line because at the time, I wanted to be a fashion model, like she was, but when I saw the puffy tulle dress this Barbie came with, I had to have her. I think I had the controversial version with the nose piercing!
Butterfly Art Barbie and Ken, 1998
Talk about cool and edgy! My sister had the Barbie doll from this line and I had the Ken. And we had the original controversial versions that came with press-on tattoos! (Later editions were repacked as basic beach dolls.) I remember being kind of scandalized by this line myself… from the frayed denim Barbie and Ken wore, to the mesh and crochet fabric of their tops… not to mention the painted-on tattoos! And, omg, Barbie's CRIMPED hair!! I thought these dolls were so badass haha.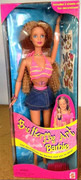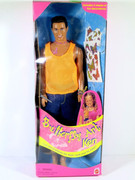 Beyond Pink Barbie, 1998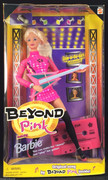 By this time, I was starting to get into music, thanks to the influence of my older sister, so of course I wanted this cool ~rock star~ Barbie. I was so excited to get her for Christmas, along with the Barbie Bed & Bath playset. I loved her cool platform shoes, metallic silver earrings, the sparkly tinsel in her hair, and the (new to me) Bob Mackie face mold. I remember taking her to bed with me Christmas night, I was so obsessed. Of course, I also annoyed my family by blasting the one song that came on the included cassette tape nonstop.
Generation Girl Blaine, 1999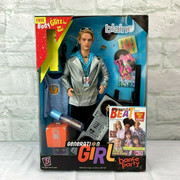 I believe this was the first-ever Blaine doll, who would famously go on to steal Barbie from Ken. I thought he was so handsome and I loved that Mattel included a guy doll as more than just an accessory for Barbie. His clothes and accessories were super trendy – the silky short-sleeve button-down with a trippy blue pattern and metallic jacket are still so cool to me, and I thought the mini CDs and records he came from were fascinating. They looked so real! Haha.