CHER: WHY GAY MEN LOVE ME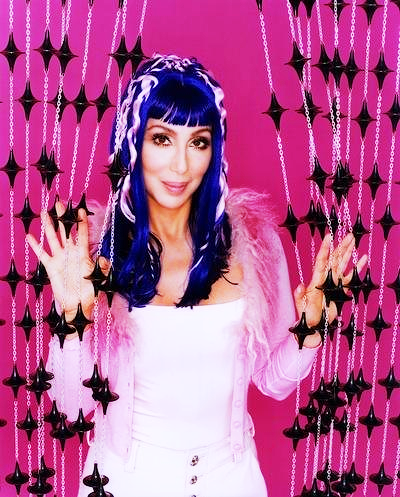 GAY guys go gaga over Cher, because she's as out of the mainstream as they are. That's what the pop goddess believes.
"I was always an outsider, no matter what business I went into," she says. "I think they could relate to that."
Cher, 57, has had a legion of gay fans since she broke into show business 40 years ago. And she insists she's as crazy about gay men as they are about her.
The diva says she has "gazillions" of gay friends. "I think they are more flamboyant -- and I mean that in the most positive way," she tells Bust magazine.
"They will just try things that are risky -- you know, they'll try feathers, or they'll try painting a wall striped. They'll just go for it."
Cher also notes that most of her gay friends have a terrific sense of humor and love to laugh. "I think," she says, "that is something I have learned."
The superstar says she came to appreciate gay companionship when she was very young, because her mom had two gay hairdresser pals. She thought they were the coolest guys around.
"They were so much more fun than all the other men I had been exposed to," she explains.
"They just had a gay old time."
---
Go Back
|
Star Home
|
Shrines