Confessions of a shopaholic
Innocent hobby or harmful habit? A spendthrift seeks balance and searches for meaning in the clearance racks.
---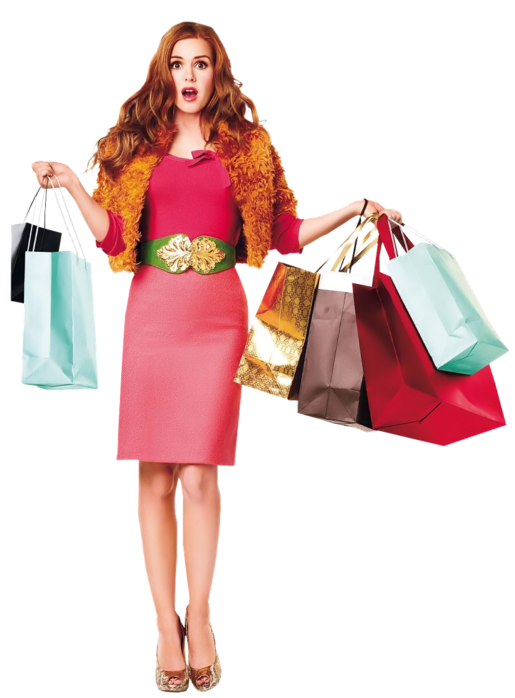 To me, there is no better sound than the pleasnt ding of a cash register opening and the slightly industrial crunch of receipt paper printing. Because there is no better feeling than buying something. For as long as I can remember, I've been obsessed with shopping. It's partly due to being influenced by America's capitalist culture, and specifically the hyper-consumerism present in the femme media I obsessively consumed as a kid — from Mary-Kate and Ashley movies and Barbie dress-up games, to Sex and the City marathons on E! But it's also because shopping was always my happiest family experiences.
We didn't have a ton of money growing up, but we managed to do a good amount of shopping. I grew up in the South, so walking the mall to window shop and grab a bite in the food court was a good way to spend a hot summer day. When we were able to splurge, we'd grab something from a mall store. On birthdays, my sister and I were usually treated with a trip to Wal-Mart or Toys 'R' us to pick out a toy. More often, though, we were scouring dimly-lit clearance racks and dinghy discount store bargain bins. But in my mind, the experience always felt as glamorous as the shopping sprees I watched the Olsen twins go on in their direct-to-video movies.
I've always craved that sense of glamour, so I've developed a taste, and desire for certain brands, labels and lifestyles. And I've developed some shopaholic tendencies in perhaps premature pursuit of them. Yet, due to my lower middle-class upbringing — plus some of the present-day goals and values I've developed, as well as a shrinking part-time/freelance budget — I still have a bargain hunter's heart.
I'm critical of many elements of shopping — its link to consumerism and waste; the often oppressive and exploitative working conditions in retail and its associated industries; the impulsive, reckless part of my mind it can often trigger — but I maintain that my shopping is — or maybe I aim to make it — a hobby, not a habit. I reject the idea that shopping is a vapid or meaningless activity. I actually find a lot of meaning and power in shopping, both personally and on a larger scale. Nostalgia and sentimentality are a big part of it for sure — my family shopping trips did occur in the American mall's 90s resurgence, after all — but I believe shopping is more personal to other people than they may realize. Especially in a post-lockdown virtual meeting, live streaming, delivery app, self check-out culture, shopping among locals in your neighborhood grocery store might be the closest thing to community some of us may get on a given day.
But more than that, shopping, and the systems that influence when, were, why and how we shop, raise so many significant and interesting economic, cultural, social and political ideas with — sometimes surprisingly (even to a shopaholic like me) — expansive implications.
This section of my website will be where I explore some of these ideas, while indulging in my love of shopping. I want to share and celebrate the fun parts shopping — favorite stores, wish lists, reviews — while also examining shopping from a critical lens — exploring the issues and searching for solutions. Whether you love shopping and want to share in the excitement, or are simply intrigued in some of the concepts I'll be discussing, I hope that you find something that interests you here! Grab a pretzel and a fountain drink and have a look around.


---
Go Back
|
DECLINED main
|
shrines
|
home