Songs that defined my year: 2021
Freshly vaccinated, after a year of social distancing, I entered 2021 eager to feel new – to feel alive – again, something that didn't come easily – especially after the Delta and, later, omicron variants threatened the return to normalcy early 2021 seemed to promise. But these songs helped carry me through all the ups and downs of the year.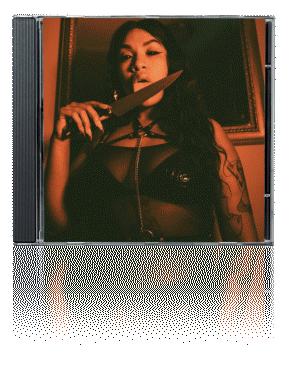 Slayyyter – Troubled Paradise
This was my top-played track on Spotify, and I looped it countless more times from the version I purchased from iTunes. A single from Y2K-indie-pop queen Slayyyter's debut album, the song is an epicly anthemic, emotional and endlessly danceable lament on love lost. With emotional lyrics and a pulsing beat, this was a fitting soundtrack to both the escapist highs and existential lows of the year.
Bree Runway - Damn Daniel (feat. Young Baby Tate)
A close second on my Spotify wrapped is this song from British rapper and POP STAR Bree Runway's debut mixtape. A fun throwback to early 90s rap, this was my go-to driving-with-the-windows-down song of the summer.
Torraine Futurum - Miles From Heaven
Like Baz Luhrmann's "Sunscreen Song," this EDM-influenced song soundtracks a spoken-word piece (in this case, transgender activist Janet Mock's speech at the 2017 Women's March on Washington) with a mellow deep house groove. The track ends with a sing-talked verse from Torraine that references that one Corinthians passage everyone reads at weddings. It risks being hokey, but instead comes of as a sincere and passionate call to action that helped give me hope during yet another year of the pandemic.
Ayla D'lyla, Miss Madeline – Life Could Be Sweet
An explosion of unapologetic high-camp escapism, this collaboration between two rising indie pop artists was a welcome retreat into a world of "candy-coated skies" and "super hot guys" during a time when life felt anything but sweet.
Bella Thorne – Lonely
I was almost embarrassed to like this song, from Disney-kid-turned-internet-celeb Bella Thorne, but the raw, relatable lyrics won me over. The honesty of even the line's most awkward moments ("If you're not fucking me then, that should be a crime") made this a staple on my Summertime Sadness playlist.
Róisín Murphy – Something More
Róisín Murphy's entire "Róisín Machine" project was breathtaking as a whole, but this is one of the main songs that stuck with me in the year since its release. With a yearning refrain ("I want something more") and verses that describe an opulent lifestyle ("A billion in the bank, titles of higher rank"), this song is at once a cautionary tale about the ills of hyper-consumption and an ode to the search for deeper meaning. The perfect soundtrack for the times we're living in.
Adam Joseph, Gustaph – Second Coming
When it comes to pop music, I'm a sucker for two things – deep house beats and religious references. This song serves up both perfectly, with an instrumental that recalls "Show Me Love" by Robin S. and lyrics that rival Madonna's "Like a Prayer" for biblical euphemisms for sex. Sexy and transcendent, this song can get your blood pumping in more ways than one, making it one of my favorite songs to put on for exercise and sexy times.
Saint Mela – First Bloom
I don't know how to explain it, but this song sounds like something I would hear on VH1's "You Oughta Know" in 2007. A soulful, yet sassy, owed to personal growth, this song is an inspiring reminder that brighter days always follow – and are possible because of – life's struggles.
Fletcher – Forever (SOPHIE Remix)
I discovered this remix just before producer SOPHIE passed in January 2021. A sexy yet solemn reflection on young love, this song features lyrics that express a longing for conflicting desires (to be "young and party" and settle down with a partner) that resonated with me as I prepared to enter a new phase of my life as I approached 30 and finished graduate school.
Muki – I Know What I Like
With layered, pulsing beats and a repetitive refrain ("I know what I like, I know what I like..."), this song is a surprisingly pleasing sonic assault that's, to reference the lyrics, "like a car crash to my heart." The bubblegum lyrics about young love and hyperpop-inspired production come together to create a sound that's nostalgic and fresh all at once.
Swim Good Now and Techno Hall of Fame – Summer's Over
A deeply depressing song about loneliness, this song – which was released in 2019 – is an eerily accurate portrait of life during COVID. "Summer's over, baby, and you're still alone." Enough said.
The Childlike Empress – Take Care of Yourself
The title track from this multi-talented indie artists' debut LP, "Take Care of Yourself" is a moody, guitar-driven track with lyrics about personal growth. Yet another song that perfectly captured the mood of coming of age in quarantine.
LIZ – Cloudbusting
A hyperpop take on the iconic Kate Bush track, Y2K pop act LIZ's take on the song gives it a new sense of urgency. Blasting this song, with it's blaring synths and pounding drums, and shouting along, "I just know that something good is gonna' happen," almost made me believe it.
Number One Popstar – I Hate Running
Indie singer-songwriter Kate Hollowell puts a surprising twist on sexy workout jams like Olivia Newton John's "Physical" or Dua Lipa's "Physical. With lyrics like "Nothing matters, we're all gonna' die" and a pulsing synth line that almost forces you to dance, the result is a delightfully dissonant and depressing romp about striving to be better in a world that's the worst. It goes without saying that this was another great quarantine track.
Ambar Lucid – Universe
A bilingual celebration of cosmic oneness with a sexy groove, this song was the perfect soundtrack to both at-home workouts and journaling sessions.
Elio – Charger
As a fan of pure pop, I was pleased to discover this gem from upcoming pop girl Elio. She's Charli XCX approved (the queen of hyper-pop even appeared on a remix of this track) and this song shows why. This song tells a melodic and emotional story about moving on from a tumultuous relationship, but ultimately reveals the meaning in the mundane, which is probably why I connected with this song so much in another year of quarantine.
Iggy Azalea, Tinashe – Dance Like Nobody's Watching
I love to dance, so I was going to love this song – which celebrates dancing for self-expression rather than "for the boys," "for the girls," or "for the 'gram" – no matter what. But with lyrics that describe solo dancing at home, the song is about dancing with literally no one is watching ("Sold-out concert in the bathtub … moonwalk in the kitchen … twerk by the mirror in the bathroom"), making it yet another perfect quarantine track.
Kelechi – Dance in the Mirror
Like "Dance Like Nobody's Watching," this song is also a great quarantine dance party track, but the lyrics are more about self-discovery, making it more emotional ("I see myself clearer when I dance in the mirror"). With an instrumental that sounds like something off 90s R&B or adult contemporary radio, this was a beautifully nostalgic and vulnerable track to spend nights at home with.
Miss Madeline – Bad Girls
This song didn't make my year-end list, which is shocking, since I literally played it on a loop for almost a full month after it came out. Another irreverent, campy, trashy pop song from Miss Madeline, the raunchy and relevant lyrics ("He just fucked me in the back seat … I'm so sick he needs a vaccine") provided needed comic relief during a tumultuous year.